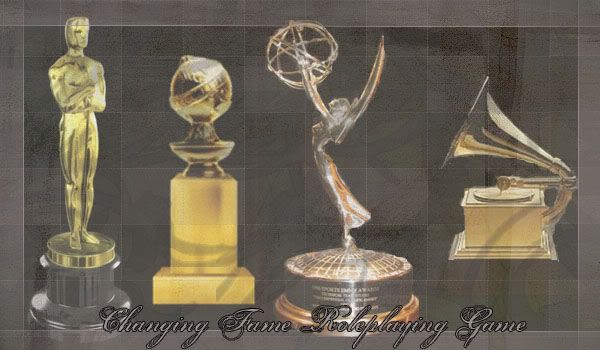 It is our goal for better communication in this group, and instant messenger and email are excellent ways for us to get into contact with you. Some moderators do not care about contacting you at all, and do not pay attention to new players. We aren't that way here. We strive to help you feel as welcome as we can.

TO JOIN PLEASE GO TO
the_playwrights and follow the directions in the journal.

If you have questions, comments, etc you can contact the mods collectively at: changingfamemods@yahoo.com


This community is FRIENDS ONLY please see the maintainer's journal for instructions on how to apply. There will be NO ANONYMOUS REPLIES OR POSTING IN any GROUP connected with
changing_fame. Interested players need to contact us privately about playing before hand. If you want a private storyline please ask about it privately and not on the group. Thank you so much!


the_playwrights The Maintainer

Disclaimer: You have reached this page via a link from a journal kept in Live Journal.

The "celebrity" whose journal you found IS NOT THE ACTUAL CELEBRITY. The maintainers of these journals participate in a role playing game (RPG) where people "portray" actors, musicians, pop-stars, authors, athletes, ie famous people/celebrities.

These journals are kept and written by fans, and are meant for entertainment purposes only. The entries contained in these journals are not dictated by the celebrity, nor are they meant to represent the actual thoughts, actions, lifestyle or image of the celebrity. They are a fictional interpretation and not meant in any way to be an accurate depiction. They are absolutely false and based on a public image, and are not meant to reflect the person's private life. No harm, misrepresentation, libel, malice or copyright infringement is intended.

At no time are these entries/journals meant to be construed as reality. The players who maintain these journals do not know the celebrities personally, and have no means of contacting them.

We believe that these journals are in no way libelous as there is no malicious intent, and have no intent to misinform fellow role-players or anyone who may read the journal. We also believe that this constitutes "fair use" under section 107 of the US Copyright Law. These journals are nonprofit and meant as a commentary on a public image and are not meant to use that public image for any personal gain.

Be advised that these journals may contain adult content. We suggest you be at least 18 years of age, or at the age of legal consent in your state/country to read them or participate within this community.

This disclaimer was based on the disclaimer used by LJ communities,
must_be_pop and
actors_guild, but has been edited from its original source. This disclaimer is used to cover those who participate in this LJ community,
changing_fame.
-------------------------------------------------------------------------------
All participants in
changing_fame should link to this entry in the "website" portion of their user info. You may use whatever text you wish for the website title, but it must link to this entry. In addition, a disclaimer of some type must be placed in your user-info.